BLOG POSTS ARE PRELIMINARY MATERIALS CIRCULATED TO STIMULATE DISCUSSION AND CRITICAL COMMENT. THE VIEWS EXPRESSED ARE THOSE OF THE INDIVIDUAL AUTHORS. WHILE BLOG POSTS BENEFIT FROM ACTIVE UHERO DISCUSSION, THEY HAVE NOT UNDERGONE FORMAL ACADEMIC PEER REVIEW.
By Joshua Hu and Justin Tyndall
Hawaii has steadily moved forward with its vaccination initiative. Currently, the CDC reports that 26% of Hawai'i residents are fully vaccinated against COVID-19, slightly above the national rate of 24%. Despite progress in vaccinations, during the period from mid-February to early April, Hawai'i has undergone a rise in new infections with new cases concentrated among younger, unvaccinated individuals. On April 3, the 7-day average for new COVID-19 cases hit a peak of 117 new cases per day and has since declined slightly.
Vaccination Rate and New Covid Cases
A potential cause of the recent virus spread is the decline in the share of people staying at home and a rise in gatherings. UHERO has maintained a dashboard to track human mobility within the state by using anonymized cell phone location data. The interactive data are made available HERE.
Before the pandemic, roughly 20% of state residents stayed completely at home on a given day. During infection peaks in March and August, the share of people staying at home doubled to 40%. This past week, only 27% of residents were staying at home, a rate not much higher than what had occurred in normal times. The data allow for the comparison across islands and neighborhoods. Maui has undergone a particularly steep decline in the share of residents staying at home. The willingness of Maui residents to go out more seems to be correlated with the timing of rising infections on Maui.
Share of Hawai'i Residents Who Stayed at Home All Day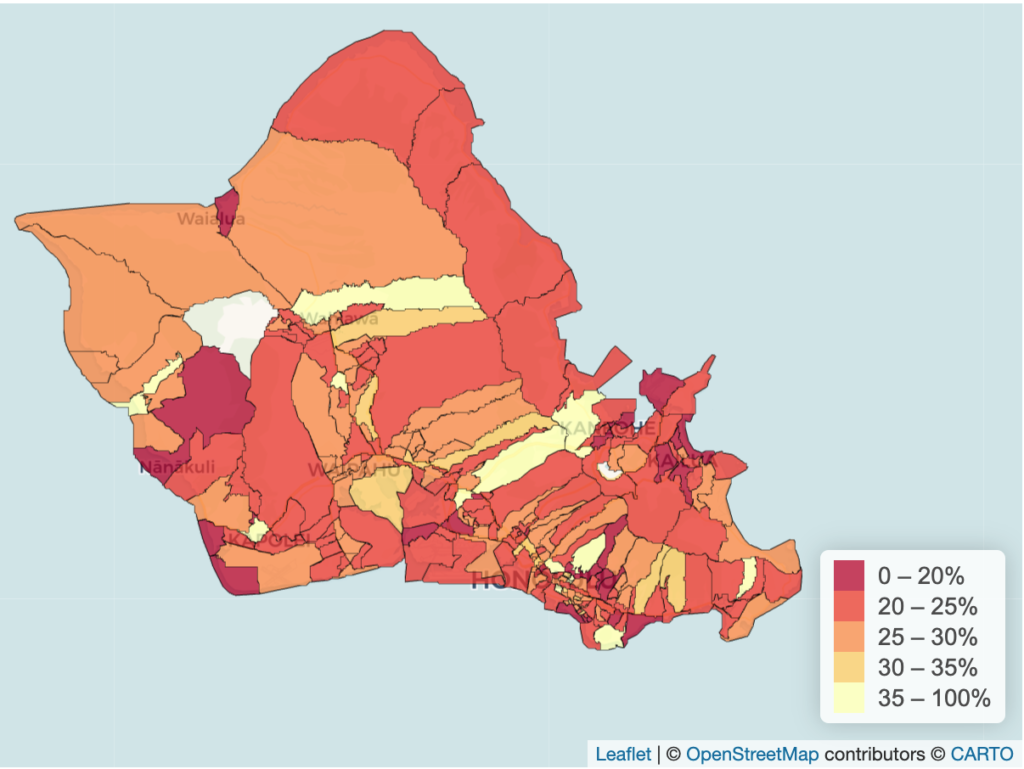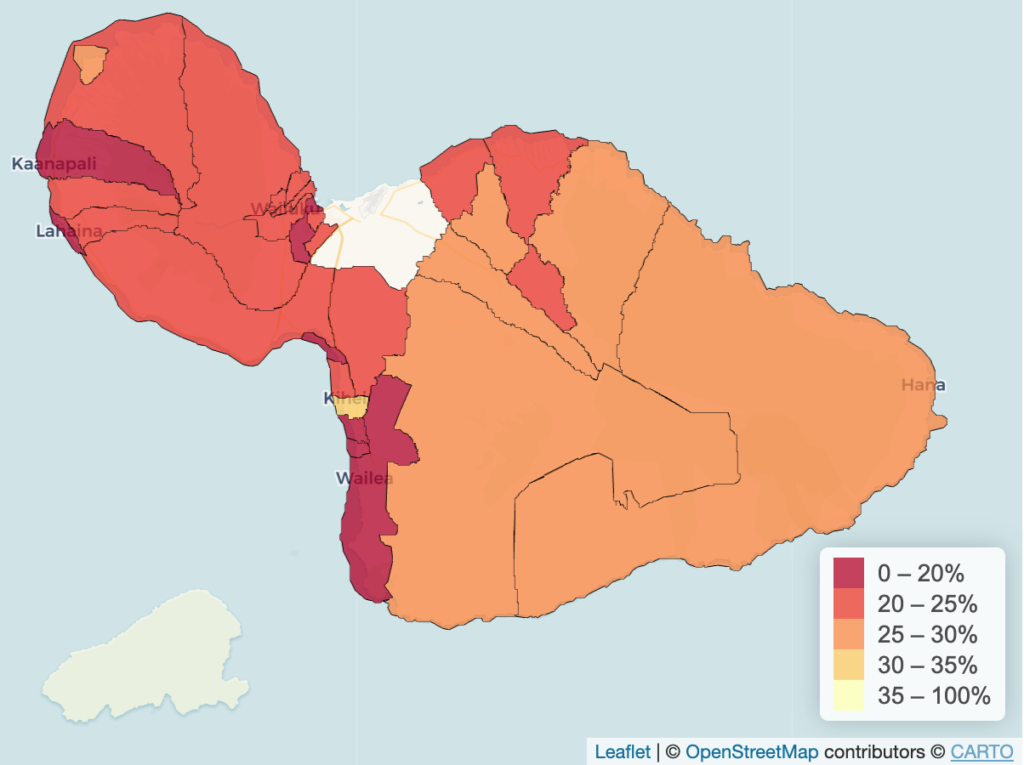 The dashboard also provides information on foot traffic at various locations relative to normal levels. Unlike the data on staying at home, these figures include the impact of tourists. The number of people at restaurants has recovered to 63% of the pre-pandemic level. After a long period of almost no activity, foot traffic around hotels has recently increased to 54% of the normal level.
Foot Traffic at Local Businesses
There are many factors at play in determining virus spread. The willingness of residents to maintain safe practices when they are out of the house—such as wearing a mask, social distancing, and avoiding large gatherings—are important. However, the rise in human mobility over recent weeks may be contributing to the recent rise in cases and can help explain why rising vaccination rates have not yet translated into a significant drop in new cases.
Rising vaccination rates will help push new infections down, while rising mobility may push new infections up. Case counts over the coming weeks will largely depend on these two forces, and their relative effects will dictate how quickly Hawaii can control the virus and ultimately return to normalcy.