By Kim Burnett and Cheryl Geslani
UHERO's Project Environment has received funding from the National Science Foundation to participate in an interdisciplinary, international project that spans the natural and social sciences as well as the terrestrial and marine spheres. UHERO is partnering with scientists, resource managers, cultural practitioners and private landowners in Hawaii and Fiji. The project has two distinct parts; the first examines the relationship between local ecological knowledge and social, economic, and ecological outcomes across twenty rural villages in Fiji. The second part of the project explores the effects of different management and climate change scenarios on ecosystem services and indicators of resilience in three Pacific island watersheds.
For Part 1 of the project, we will focus on twenty rural coastal communities across four districts in Fiji. The team will collect household and village-level data within each of the four districts on ecological knowledge, customary skills and intergenerational knowledge. This will be matched to new and existing data collected from nearby forests and reefs. The goal is to develop an index of local ecological knowledge, as well as an index of social-ecological resilience, and examine relationships between these new indices and other ecological, social and economic outcomes. Of particular interest is the influence of local ecological knowledge on our indicators of resilience.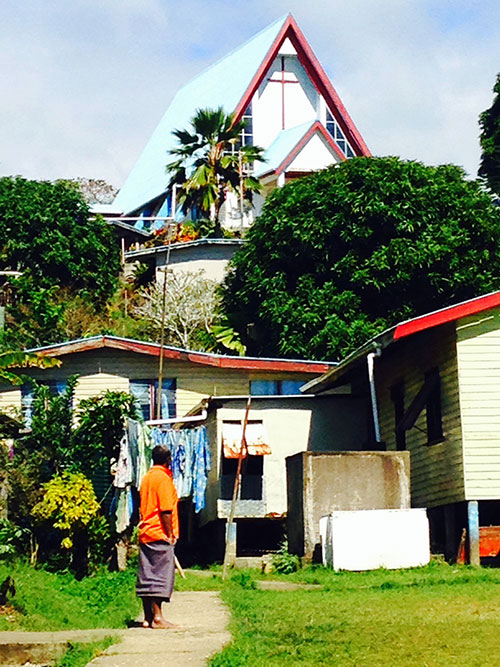 In Part 2 we will conduct three in-depth case studies at the watershed level, focused on quantifying ecological, cultural, and economic values of various land/ocean uses and covers, and their implications for resilience to climate change. The three watersheds were chosen where collaborators have long-term studies to leverage strong existing relationships with landowners, resource managers and users. The watersheds include Kaupulehu on the leeward coast of Hawaii Island, Haena on the north shore of Kauai, and Kubulau on southwestern Vanua Levu.
In each watershed we will collect new terrestrial data on vegetative composition, canopy cover, and indicators of habitat connectivity. Marine ecological surveys will include reef fish assemblages, benthic cover, species composition, biomass, and trophic structure. Ecosystem and cultural services for land and ocean uses will be calculated based on existing data, ecological characteristics, participatory mapping, and interviews.
To understand what combination of land-use practices best enhance social-ecological resilience under different climate change scenarios, we will evaluate the levels and resilience of ecosystem services under multiple future scenarios of climate change and management. These scenarios will represent a range of likely future climates crossed with a range of possible management decisions for each of the three watersheds. After developing an understanding of the ecological, cultural, and economic benefits of each of the management scenarios, we will then assess the costs of various management regimes under different climate change scenarios. The team can then identify a series of "optimum" scenarios – those that appear to maximize resilience indicators and emphasize the cultural, economic and ecological values identified to be of interest to the community members, land managers, and other stakeholders.
Our dual focus on Hawaii and Fiji provides a spectrum of cultural values and land and ocean uses, from functional agroforestry and traditional subsistence fishing in Fiji, to systematic habitat conservation and restoration in Hawaii. As a result, we can capture a wide spectrum of land management paradigms and their potential outcomes under different climate change scenarios, and our results can inform decision making elsewhere in Hawaii, in the Pacific, and throughout coastal areas more broadly.
BLOG POSTS ARE PRELIMINARY MATERIALS CIRCULATED TO STIMULATE DISCUSSION AND CRITICAL COMMENT. THE VIEWS EXPRESSED ARE THOSE OF THE INDIVIDUAL AUTHORS. WHILE BLOG POSTS BENEFIT FROM ACTIVE UHERO DISCUSSION, THEY HAVE NOT UNDERGONE FORMAL ACADEMIC PEER REVIEW.