Hawaii sits in the middle of the largest ocean on earth. So the majority of the seafood consumed on these islands must then come from local waters, right? The answer might surprise you.
The average 2000 to 2009 annual commercial consumption in Hawaii was 38.9 million pounds per year, which is roughly 28.5 pounds per capita. It goes without saying that the residents and visitors of Hawaii eat a lot of seafood, approximately 12.6 more pounds per capita than the U.S. as a whole. Only 37% of that 38.9 million pounds of commercial seafood comes from local waters. However, it is important to keep in mind that Hawaii's population also eats a wide variety of seafood, and like any other state, demands certain species that must be imported.
There are no marine recreational fishing license requirements in Hawaii and therefore no exact recreational catch data, but DLNR and NOAA jointly conduct a survey on recreational fishers. If we add their recreational estimate to commercial sources, then that significantly changes the distribution of where our seafood comes from. Of all the seafood consumed in Hawaii, the percentage of local seafood is pushed up to 51%.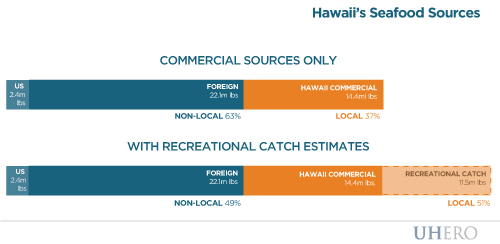 With the addition of recreational catch total consumption for Hawaii goes up to 50.4 million pounds, which translates to roughly 36.9 pounds per capita. This means recreational and subsistence catch add an additional 8.4 pounds of seafood consumption annually per capita for the state of Hawaii. Recreational and subsistence fishing, hunting and gathering are important components of local consumption, and should be considered as part of the solution for optimal food security.
This information is essential to assess the market competitiveness of local versus imported seafood. It is important for the formulation of public policies that are intended to promote further development of Hawaii fisheries and the aquaculture industry. You can read more about this research in the Joint Institute of Marine Atmospheric Research report, the CTAHR Extension article (Economic Issues, EI-22), and the article in Marine Fisheries Review. Future research directions include an improved estimate of continental U.S. imports and transshipments, the level of non-commercial seafood supply flow into the retail sector and import flows directly to commercial retail and food service establishments. This research was made possible with funding support from NOAA's Hawai'i Seafood Program (Award No. NA09NMF4520171) conducted in the College of Tropical Agriculture and Human Resources (CTAHR) at the University of Hawaiʻi at Mānoa.
– Cheryl Geslani and Kimberly Burnett