BLOG POSTS ARE PRELIMINARY MATERIALS CIRCULATED TO STIMULATE DISCUSSION AND CRITICAL COMMENT. THE VIEWS EXPRESSED ARE THOSE OF THE INDIVIDUAL AUTHORS. WHILE BLOG POSTS BENEFIT FROM ACTIVE UHERO DISCUSSION, THEY HAVE NOT UNDERGONE FORMAL ACADEMIC PEER REVIEW.
By Sumner La Croix and James Mak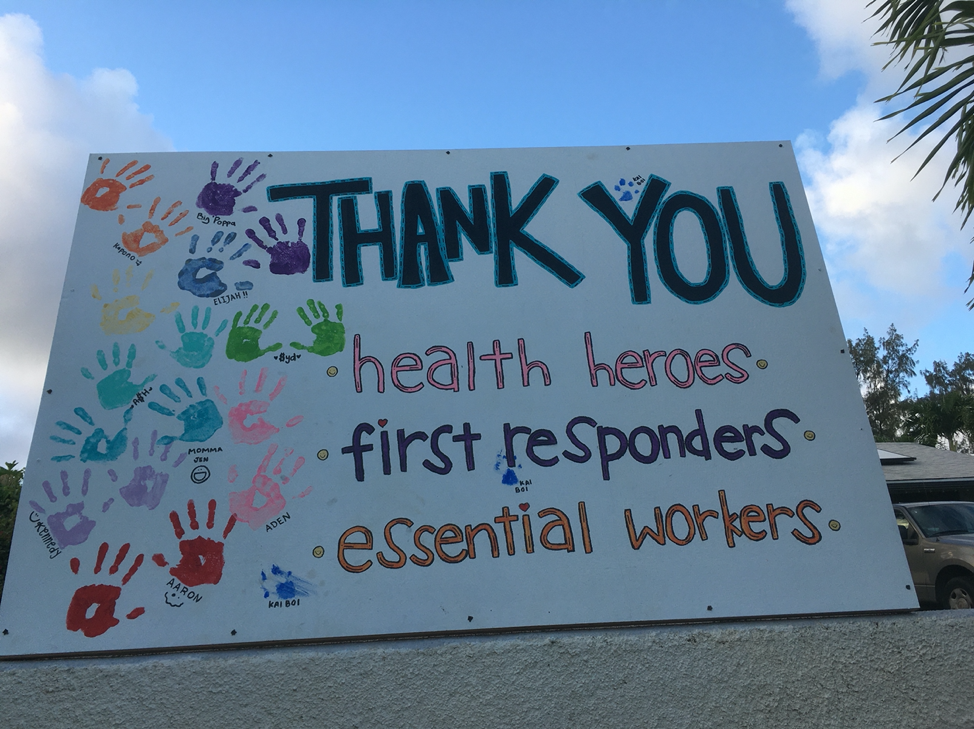 At Hawai'i's high schools, 11,000+ students at public schools and 3,000+ students at private schools are about to graduate. Sadly, because of COVID-19, graduating seniors from the Class of 2020 are forced to forego festive ceremonies and celebrations that mark their transition to adulthood. Until COVID-19, graduation meant going on to college for many—about 55% of public school students. For others, it would be time to find and start a job. This year, finding a job will be a daunting task, with unemployment in Hawai'i hovering at around 30%, the highest in the nation, and full job market recovery several years away. Even for those who aspire to go to college, the devastation of family finances due to the pandemic may make it difficult for them to pay for post-secondary education. Likewise, the nearly 5,000 students graduating from University of Hawai'i this year with BA degrees and the students graduating from Hawai'i's private colleges will also face slim job prospects and an uncertain future.
Past U.S. pandemics and economic crises have badly hurt young adults, particularly those who were high school or college seniors when these crises hit. Consider how young adults were affected by the Polio Pandemic of 1916 and the Great Recession of 2007-2009.
In 1916, the United States was hit by a polio pandemic with 23,000 cases. Public officials closed public schools and put quarantines in place. In a 2017 research paper, Keith Meyers and Melissa Thomasson show that many high school students close to graduation decided not to return to school when they reopened. Their analysis of data from the 1940 U.S. Census, taken when these students were 38-41 years old, shows that this group completed fewer years of education than those who preceded or followed them.
The last big economic crisis to hit the United States, the Great Recession of 2007-2009, also harmed young adults. In a 2019 paper, Jesse Rothstein, Professor of Public Policy and Economics at the University of California, Berkeley, found that "job openings were at least 20 percent below their pre-recession peak for nearly five years, and … [t]he share of individuals aged 20-25 who were neither working nor in school rose by nearly half, from 13.1% in 2007 to a high of 19.0% in 2013." Rothstein concludes that "through a combination of short-, medium-, and long-run effects, the Great Recession will reduce the employment rates of college graduates over the 2007-2060 period by a total of over 15 percentage point-years." What is particularly shocking is that almost half of the loss in employment persists until the affected workers retire.
Both the polio pandemic and the Great Recession left young adults permanently scarred. The startling reality spawned by COVID-19 is that the current crisis in Hawai'i is much larger than the 2007-2009 economic crisis and is on track to generate much more damaging and pervasive scarring of Hawai'i's young adults.
It would be a great tragedy if students from the Class of 2020 were left to drift around for a couple of years and to have their knowledge and skills deteriorate. Next year there will be another crop of graduates pushing them from behind and another crop one year later. Those students will be more recently trained and are likely to be preferred by employers. The bottom line is that the State of Hawai'i needs to take bold action to prevent graduates from the Class of 2020 from becoming a lost generation permanently scarred by the COVID-19 crisis.
One way to help the 2020 graduates is to provide "last-dollar" tuition assistance for the next two years at UH campuses—whether it be at a 2-year institution or a 4-year institution—for those who qualify and cannot afford to continue their education as a college freshman or as a first-year graduate student in a master's program. A "last dollar" assistance program covers financial needs not met by other forms of financial aid such as federal grants and scholarships from UH, employers and other private sources. Enrollments have been declining at UH campuses in recent years, and they should be able to admit sizable numbers of new students without straining capacity and substantially raising costs.
The idea of offering college tuition assistance, as we are proposing, is not a novel one. Other states are already doing this, not to deal with an emergency, but to foster economic development. For example, since 2014 Tennessee has offered a free tuition program for every high school graduate (including older adults long out of school) who enters a 2-year community college or trade school regardless of income. Called the Tennessee Promise Program, its establishment was strongly supported by Bill Haslam, the two-term (2011-2019) Republican governor of this deeply red state. Haslam argued that the free tuition program fostered manpower development in Tennessee and was more effective than tax incentives in incentivizing new business investment and job creation. In 2019, Washington state lawmakers passed legislation to provide free tuition (beginning in July 2020) at the state's 2- and 4-year colleges for students and adults from 4-person families earning less than $50,000.
A 2020 study by University of Tennessee economists Celeste Carruthers and William Fox and University College Dublin economist Chris Jepsen found that the precursor to the Tennessee Promise Program was particularly effective in incentivizing low-income and minority students to enroll in community college and then to continue on to a 4-year college. One problem with Tennessee's program is that while it was effective in promoting middle- and higher-income students to enroll in community college programs, these students were less likely to complete a 4-year degree even though a 4-year degree generates a higher return to education investment. Carruthers et al. argued that this problem could be solved by extending the Promise program to students enrolling in Tennessee's 4-year colleges. The University of Tennessee has just announced its own (institutional) plan to provide free tuition to students whose families earn less than $50,000 per year.
In 2017 the Hawai'i State Legislature appropriated funds to start a version of Tennessee's program for Hawai'i's community colleges. Called the Hawaii Promise Program, the initiative provides "last dollar" financial assistance for in-state students who qualify. UH allows this assistance to be used to cover any "direct education costs" such as "tuition, fees, books, supplies and transportation." The program spent $2.6 million in AY2017-2018 to support 1,500 community college students, arguably a bargain. Positive reviews from UH students, faculty and administrators helped the Hawai'i State Legislature decide to add $700,000 in funding for the program, an amount estimated to support an additional 500-600 students during AY2018-2019.
During the current (2020) legislative session, the University of Hawaii Board of Regents asked the Legislature to appropriate $17.7 million to expand the "last-dollar" program at the community colleges to Hawai'i's 4-year campuses. Governor Ige's proposed budget upped the amount to $19 million. In the Legislature, House Bill HB2250 was introduced "to provide scholarships for the unmet direct cost needs of qualified students enrolled in bachelor's degree programs in teaching, health care, social work, or engineering at the University of Hawaii who commit to work for at least three years in Hawaii." The House passed the bill and sent it to the Senate. The suspension of the legislative session on March 16 due to the pandemic stopped progress on the bill.
The spread of Promise college financial assistance programs in the United States has permanently changed the landscape of financing undergraduate college attendance. Our proposal is much more short-term oriented, as it proposes emergency financial assistance for two groups of students—the High School Class of 2020 and the College Class of 2020—for two years to stem the potential economic scarring caused by COVID-19 for the rest of their lives.
One way to finance this program for the Fall 2020 semester is to use some of the $862 million in CARES money dedicated to the State of Hawai'i for responses to the COVID-19 epidemic. It should fit into the purposes for which the federal assistance has been designed. UH could correctly name the program, The COVID-19 Scholarship Program to Support Hawai'i's Future Leaders. If it succeeds in preventing the 15 percent decline in employment rates suffered by 2007-2009 high school and college graduates, this will increase the income of these young adults for the next 40 years. The increase in future state tax revenues from the bigger and more robust future employment could well pay back the cost of the program. And the program may provide a valuable experiment for determining how UH and the state can best provide for the development of a skilled, highly educated labor force and citizenry.
Is it possible for the Legislature to enact legislation to provide such emergency funding? We noted above that a bill somewhat similar to what we propose has already passed the state house. The HB2250 bill could serve as a vehicle to establish an emergency "last dollar" education assistance program for both 2020 high school graduates and 2020 college graduates. The emergency program should not be restricted to students enrolled in specific degree programs or require that students work in Hawai'i after graduation. The main purpose of this emergency program is to prevent Hawai'i's youth from being permanently scarred, not to try to remedy shortages in some fields. Some shortages in critical fields will naturally be reduced as overall UH enrollment increases. Moreover, we see good reason to also include Hawai'i students graduating with B.A. and B.S. degrees from private and public colleges in the program as they will face the same problems finding jobs as high school students.
It is imperative for the University of Hawai'i and the Legislature to move quickly, as the window of opportunity to provide emergency assistance will start to close as the Fall 2020 semester approaches. Fast action will yield big benefits for thousands of Hawai'i's young adults, the University of Hawai'i, and the state. There are no obstacles to enacting this kind of program that cannot be overcome.
(While working on this blog, we learned that a Financial Times editorial (7 May 2020) raised the same concerns over the future of the Class of 2020 in the United Kingdom. The editorial's analysis was based on a report published by the Resolution Foundation. Similarly, a recent Wall Street Journal article (9 May 2020) expresses the same concern for the Class of 2020 in the United States)