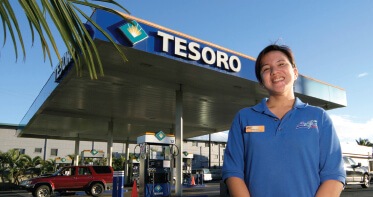 Earlier this month, after a year-long unsuccessful effort to sell the facility, Tesoro announced they were shutting down their refinery while continuing to offer it for sale. The question on everyone's mind—what does this mean for Hawai'i?
This 3-part series by UHERO Graduate Assistants Iman Nasseri and Sherilyn Wee attempts to answer those questions.
Part 1: Hawai'i's Oil Market 
Part 2: Why did Tesoro close and not Chevron? 
Part 3: How will this affect gasoline and other prices?
PART 3: HOW WILL THIS AFFECT GASOLINE AND OTHER PRICES?
Many people instinctively assume that Tesoro's closing will affect gas prices. In contrast, we think the refinery closure will have very little impact on prices.

Each and every refined product consumed in Hawai'i is available in the US and global oil markets. However, not all of the products in the global market (most importantly gasoline, diesel and fuel oil) would necessarily meet the standards set by US Environmental Protection Agency. Fuel oil, for example, at the quality standards that HECO would require to meet EPA requirements, is traded in a thin market without a well-established price marker, and are only found in the Asian markets. Gasoline and diesel markets, on the other hand, are relatively over-supplied in both the US mainland and Asian markets. (You may be surprised to learn that the United States is the largest exporter of petroleum products in the world!)

Hawai'i's two refineries have together been supplying almost all of the state's gasoline and diesel requirements in the past two decades. These two products were imported in the past but not much since the late 1990s, although this option has always been available. In addition to the refineries, there are four other entities that have the capability to import their own petroleum products—Hawaii Fueling Facilities Corporation (HFFC), Hawaii Gas, Aloha Petroleum, and Mid-Pac Petroleum. HFFC imports some jet fuel on a regular basis to supply airlines at the Honolulu International Airport and Aloha and Mid-Pac have also always had the option to import any fuel to sell in the local market. However, because the refineries have always faced a natural price floor through import-parity pricing (at least for some products), Aloha and Mid-Pac have found local supply competitive to imported fuel, and hence purchased locally.

If refineries did not consider the import option in their pricing mechanism, Aloha and Mid-Pac would have imported cheaper fuels and increased their markup to match what other retailers were charging.
Moreover, Hawai'i 's refineries have a higher crude oil cost compared with the refineries on the US mainland due to the unique demand pattern in Hawai'i as well as technical limitations to meet high EPA standards while having little desulfurization and cracking capacity. To price their gasoline and diesel competitive to the imported fuel option, Chevron and Tesoro had to manage their profit margin using the pricing mechanism in their long term contracts for fuel oil and diesel sales to HECO. Faced with restrictions from long-term HECO contracts and import price competition, changing local fuel demand and global oil market conditions at times left both refineries with negative margins.
Consequently, we don't expect to see much of a change as Hawai'i begins importing some or all of its fuels. The price impact, if any, is expected to be minimal, with some fuels becoming a little more expensive, and others a little cheaper.
Disclaimer: Blog posts are intended to stimulate discussion and critical comment. The views expressed in this article are those of the author.