BLOG POSTS ARE PRELIMINARY MATERIALS CIRCULATED TO STIMULATE DISCUSSION AND CRITICAL COMMENT. THE VIEWS EXPRESSED ARE THOSE OF THE INDIVIDUAL AUTHORS. WHILE BLOG POSTS BENEFIT FROM ACTIVE UHERO DISCUSSION, THEY HAVE NOT UNDERGONE FORMAL ACADEMIC PEER REVIEW.
By Justin Tyndall
Over 2,500 people have been killed in motor vehicle crashes in Hawaiʻi since 2000, averaging a person every three days. Car crashes are a leading cause of accidental death, particularly for younger people. In a different setting, this scale of mortality might be treated as a public health emergency, but we have largely come to accept fatal car crashes as an unavoidable reality. However, the evidence suggests many of these deaths are preventable and improvements in infrastructure and regulation could drastically cut deaths.
Traffic Fatalities by Year in Hawaiʻi
Identifying locations of particularly high risk is important for targeting safety interventions. UHERO has published a data dashboard that displays a history of fatal vehicle crashes by location. This tool can help the public and policymakers identify areas that are particularly dangerous for drivers and pedestrians. Users can zoom in to particular neighborhoods to explore local incidents. The dashboard can be used to look at other states as well and covers every fatal crash in the US from 2001-2019. The dashboard can be accessed HERE.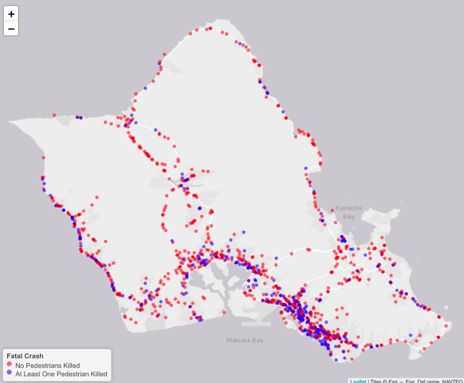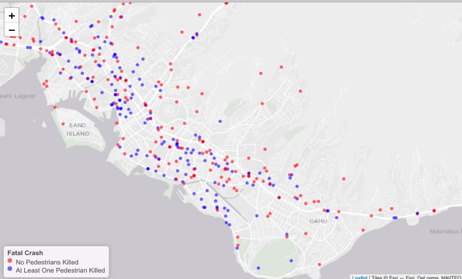 Since 2000, 23% of road deaths in Hawaiʻi have been pedestrians, compared to 13% nationally. Given our confined geography, more driving occurs near populated areas. Hawaiʻi may be uniquely positioned to effectively lower road fatalities through a focus on pedestrian safety.
Many roads across the state lack very basic pedestrian infrastructure such as sidewalks and properly designed crosswalks. Honolulu has advanced some initiatives to improve road safety, particularly for pedestrians. [1] There has also been recent interest in federal investments to improve pedestrian safety. [2] While pedestrian deaths have risen 40% over the past decade in the US, pedestrian deaths in Hawaiʻi have shown some signs of improvement. According to the most recent data from the complete national database, Hawaiʻi experienced 36 pedestrian deaths in 2019. However, the Hawaiʻi Department of Transportation reported only 20 pedestrian deaths in 2020 and 10 during the first half of 2021, marking a significant decline. It is unclear what role the pandemic has played in the changing trend.
Many jurisdictions across the US have attempted to reduce pedestrian incidents through education campaigns that encourage pedestrians to wear bright clothing, avoid busy intersections, or generally be more careful when walking. There is little evidence that such campaigns have had any meaningful effect on pedestrian safety. There is, however, significant evidence that road design interventions such as speed bumps, raised crosswalks, curb extensions, and narrowing roads can all meaningfully lower the probability of death among pedestrians. Oahu's use of this type of infrastructure has likely helped in lowering the number of pedestrians killed in recent years.
In a recently published article, I focus on the connection between the increasing size of vehicles and the rising national rate of pedestrian deaths. The average size of consumer vehicles has increased dramatically. Drivers are often encouraged to purchase larger vehicles because of perceived safety benefits, but the presence of larger vehicles on the road makes other road users less safe. Large vehicles often have extreme blind spots and high front ends, both pose a safety risk for other drivers and particularly for pedestrians. I find that metropolitan areas with faster growth in larger vehicles (particularly SUVs and pickups) also experienced faster increases in the number of pedestrians killed. The popularity of large trucks in Hawaii makes the provision of quality pedestrian infrastructure particularly important.
A feeling of safety and comfort while walking would encourage more people to make trips on foot. The ability to swap car trips for walking enables healthier lifestyles, reduces fuel consumption, and increases the vibrancy of neighborhoods. Continuing to push forward with improvements to pedestrian infrastructure would reduce preventable human suffering while providing for a general improvement in the quality of life for residents.
---
[1] KITV, Honolulu's pedestrian plan will be finalized soon; Oahu Pedestrian Plan.
[2] US Sen. Schatz Introduces Bill To Make Streets Safer for Pedestrians, Cyclists