By Byron Gangnes, Peter Fuleky, and Carl Bonham
In a Sunday Tweet, President Trump threatened this week to increase dramatically the tariffs he has placed on imports from China. The aggressive trade policies of the administration and retaliation by foreign countries are already having an adverse impact on the US, China, and other trade partners. Further escalation could potentially lead to a broad global slowdown. How large are these effects likely to be?
So far, there have been several rounds of US actions. To date these include tariffs on imported washing machines and solar panels and levies on imports of steel and aluminum. The administration has imposed 10% bilateral tariffs on $50 billion of imports from China, later expanded to another $200 billion of Chinese goods. Levies on imported autos and parts are also under consideration. In this week's announcement, the President threatened to go ahead on Friday with a previously announced hike to 25% tariffs on Chinese goods, citing the unwillingness of China to move forward with structural changes demanded by the US in ongoing negotiations.
In each of these cases so far, other countries have retaliated in kind, often choosing targets for maximum political effect, including Harley Davidson motorcycles and Kentucky bourbon. In some cases, the possibility of levies has forced partners into trade agreements or at least negotiation. Threatened tariffs on auto imports from the European Union have been held off for now pending trade negotiations. Under threat of further trade restrictions, Canada and Mexico have agreed to a new deal to replace NAFTA. And President Trump has suggested that an expansion of tariffs to the remaining $267 billion in US purchases from China might be avoided if a trade agreement can be struck soon.
There is an overwhelming consensus among economists that these restrictive trade measures are harmful to many countries—including the US. Immediate costs include higher prices on imported consumer goods, higher production costs from imported inputs, and decreased access to foreign markets. While there will be some US jobs created as some production is re-shored, the number will be small, and other jobs will be lost as US companies are forced to abandon highly efficient global production arrangements or move offshore. Potential losses could hit business expectations and investment, and financial markets could also be affected, as recent volatility illustrates. In the long run, the US will lose out on opportunities by locking itself out of new trade liberalization agreements.
How large are these costs likely to be? The direct effect of the measures taken so far is fairly small. For example, the New York Times estimates that the appliance and solar panel tariffs and the 10% levy on $250 billion of Chinese imports will cost the average American family $127, about two-tenths of one percent of income. The International Monetary Fund estimates that the threatened hike in tariffs on China to 25%, on top of measures already implemented by the US and Chinese, will still take just two-tenths of a percent off US GDP and half a percent off Chinese output.
But estimates of adverse effects grow much larger if all threatened additional actions are carried out and equivalent foreign retaliation occurs. Throw in knock-on effects on confidence and investment and adverse stock market reaction, and the IMF estimates 2019 losses of nearly 1% of GDP for the US and 1.6% for China. The global economy overall would take a hit of nearly 1% of GDP. The United Nations separately estimates that spiraling trade barriers could cut world growth by more than 1%.
It is unclear how likely it is that all of these actions and reactions will occur, particularly the potential falloff in capital investment and equity markets. But the bottom line is that Trump's trade policies are already hurting the US. And a full-blown trade war would certainly have enough juice to edge us toward the next global downturn.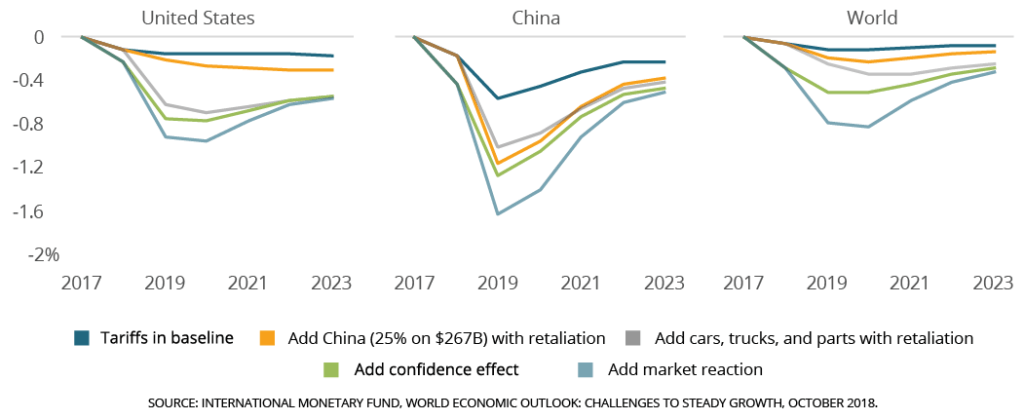 UHERO BLOGS ARE CIRCULATED TO STIMULATE DISCUSSION AND CRITICAL COMMENT. THE VIEWS EXPRESSED ARE THOSE OF THE INDIVIDUAL AUTHORS.