By Peter Fuleky
Social distancing is necessary to slow the spread of COVID-19, to reduce the chance of overwhelming the healthcare system, and to save lives. But social distancing has significant economic impacts, hitting dine-in eateries disproportionately hard. Restaurant reservations in Honolulu had already started dwindling before the ban on dining at restaurants and bars went into effect Friday. As the figure illustrates, dine-in activity at restaurants in Honolulu on the OpenTable network has declined from typical levels to essentially zero in three weeks.  Thousands of jobs will be lost as a result.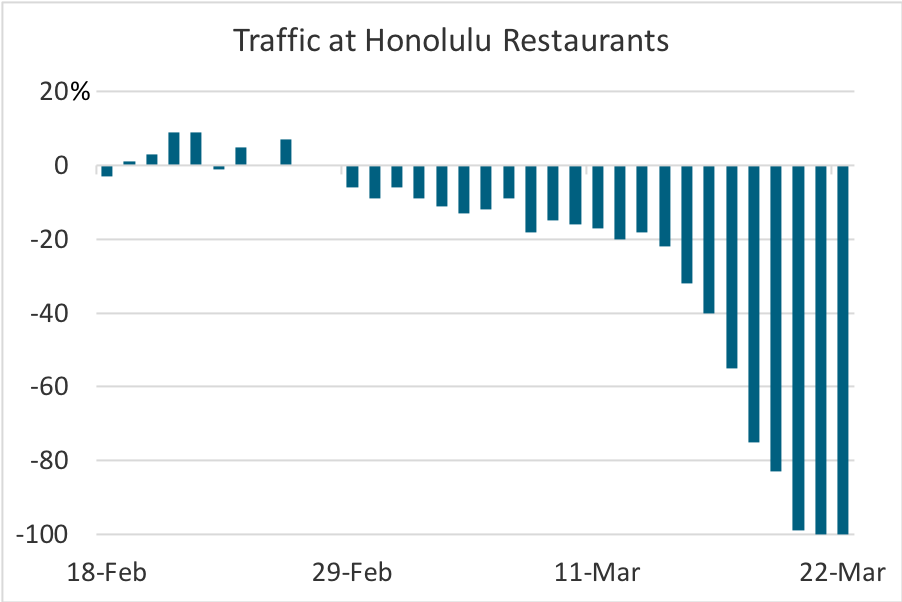 Food services are more labor intensive than most other industries. According to the most recent data on occupational employment, in 2018 more than 85,000 people in Hawaii (or 13% of all employees in the state) held food service related jobs. Restaurants cater to both visitors and residents, but due to the state's large tourism presence, food services occupations in Hawaii are nearly one-and-a-half times more prevalent than for the nation as a whole.
The dine-in ban will not affect all employees equally. Of the total food services occupations, fewer than half were cooks or otherwise directly responsible for food preparation. A number of these jobs may be spared as some restaurants continue to cater to take-out orders. But shifting to take-out will eliminate the need for wait staff serving seated guests. And many restaurants will likely cease operations altogether.
With the median annual income in the industry at about $30,000, food service employees likely have limited savings and are not prepared to handle a system-wide shock to the visitor and local dining markets. To mitigate financial distress due to temporary job losses, the federal government is considering a rescue package that would include sending checks to individuals. While this will be an important support in the near term, many job losses in Hawaii's food service industry could last months to a couple of years. Short-term income supplements will not go very far in addressing this longer-term problem.
UHERO BLOGS ARE CIRCULATED TO STIMULATE DISCUSSION AND CRITICAL COMMENT. THE VIEWS EXPRESSED ARE THOSE OF THE INDIVIDUAL AUTHORS.