By Rachel Inafuku and Peter Fuleky
Living in paradise comes at a cost. Hawaii is notorious for its combination of high costs of living and low incomes relative to these costs. These factors impose hardships on Hawaii families of modest-to-moderate income and prompt some to consider relocating to less-expensive mainland locales.
So how expensive is it to live in Hawaii compared with other states? The BEA produces regional price parities (RPP) that allow us to compare consumer buying power across the country. The most recent RPPs show that the price of consumer goods and services in Hawaii—including housing rents and imputed rents of homeowners—is more than 18% higher than the national average. Other high-price states include California and New York, with average prices 15-16% higher than the national average. As in most other high-priced areas, expensive housing is the main driver: Hawaii rents are more than 50% higher than the national average, and higher still in Honolulu. In contrast, the average price for goods in Hawaii is 11% above the national average.
The higher price of goods and services can be explained in part by the distance of Hawaii from mainland markets. Shipping costs are one component. But the physical distance from the mainland also raises the pricing power of local firms due to more limited competition. The high rents reflect the appeal of living in Hawaii, the restrictions and regulations facing developers, and, as we mentioned in our recent Construction Forecast report, building costs that are among the highest in the world. A significant portion of these costs are passed on to consumers.
Even though Hawaii prices are much higher than those across the country, our per capita personal income is only on par with the national average. In 2017, the prices of goods and services were 18.5% higher in Hawaii compared with the US overall, but per capita personal income in Hawaii was only 2.5% higher. As a result, after adjusting for Hawaii's high prices, the purchasing power of income per person was the fourth lowest in the nation!
Why are RPP-adjusted incomes in Hawaii so low? Partly this reflects the mix of industries here, with a large number of jobs in lower-paying areas linked to tourism. It likely also reflects the same regional preferences that drive up costs: many Hawaii residents want to live here because of geographical and cultural amenities—including family ties—and are willing to accept a lower wage in order to do so.
In coming years, the gap between Hawaii's high prices and prices nationally is likely to narrow to some degree. With a shrinking population and stagnant job growth, appreciation of rents and other costs will be muted, while they continue to mount across the country, particularly in coastal mainland cities. Having said that, the factors that drive our high costs and modest income are fundamental. We are unlikely to get much relief from the price of paradise.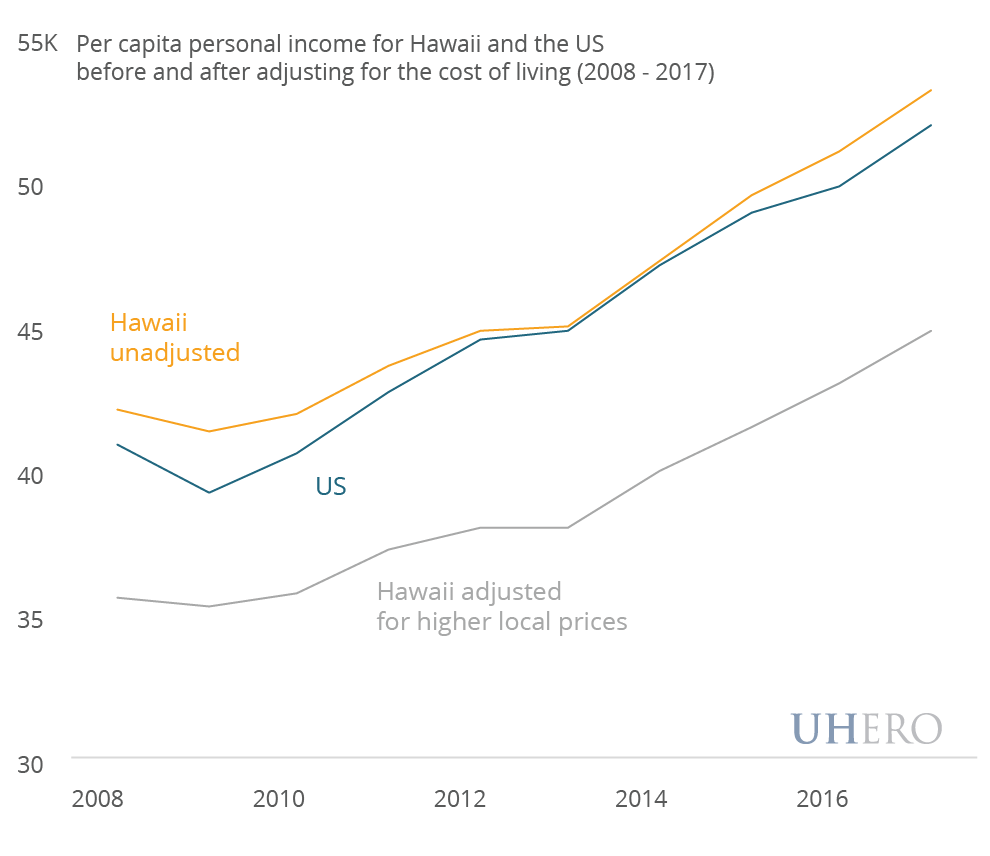 BLOG POSTS ARE PRELIMINARY MATERIALS CIRCULATED TO STIMULATE DISCUSSION AND CRITICAL COMMENT. THE VIEWS EXPRESSED ARE THOSE OF THE INDIVIDUAL AUTHORS. WHILE BLOG POSTS BENEFIT FROM ACTIVE UHERO DISCUSSION, THEY HAVE NOT UNDERGONE FORMAL ACADEMIC PEER REVIEW.